Corfu – the island I've always wanted to visit. So we booked a flight from Athens to visit Corfu and spent three nights at the beginning of January on this beautiful island.
Even through the plane window the island looked perfect. At the airport we waited for the bus that took us to the city. During the week the bus drives about every hour. Taking a taxi costs about 6 euros. When we arrived at the bus station we were impressed how different Corfu looks to other parts of Greece. The whole ambience was different in a relaxing way. Old buildings, small streets and no tourists at all. Because we arrived early in the morning we sat down in a cute café called "Mikro" and enjoyed two cappuccini with milk made out of peas. It was the first time drinking this kind of milk and it tasted very good. Much better than soy milk!
We arrived on a Monday and had to realize that almost no restaurants are open – due to the winter season and Monday. Of course I looked up some restaurants and their opening times before we arrived. We walked from restaurant to restaurant but they were all closed.
With the time we got even more hungry and finally found one restaurant in a backyard – and it was open!
The restaurant is called
Artisti.
I am still amazed by this restaurant. It has a seperate whole vegan menu with salads, pasta and pizza. The people working there were super friendly and answered every question we had. Because it was so good we visited this restaurant two times. Everything we had tasted perfect. I can't even decide if the pasta or the pizza was more delicious. Even the Greek salad (which I ate for about 1,000 times) was better than all the other salads I had before. You can really taste the good quality of the ingredients. If they added two small things it would be perfect: vegan feta for the Greek salad & a non alcoholic to drink without gas… a homemade ice tea or something like that. But as the food was so good, it was okay to drink water.
After our lunch we walked around the city and were impressed by the architecture. Every building is built with a different style. Other must sees are the harbour, the small churches and the Garden of the People. We also wanted to see the British Cemetary but sadly it was closed when we went there. Our airbnb was luckily in the middle of the town and perfect for the short stay.
Visit Corfu by night
What I really recommend you doing, is walking around the old town by night. Without using google maps or anything else. Just be leaded by your intuition and enjoy. You can also have fun playing air hockey next to the Spianada or get something to drink in a bar.
Bizou Café
On the first morning we got some breakfast as takeaway from a Café called Bizou. Everything is vegan, we got the vegan scrambled eggs and pancakes with maple syrup. The food was soooo delicious and I still think about those perfect fluffy pancakes…
You can also enjoy very fresh and delicious juice at the "Just fru it" juice bar.
The fortresses
A very special thing about Corfu is the influence of so many different cultures. You see British as well as Italian influences. Sadly it wasnt possible to go up to the old fortress (I think because of the winter time) but it's still worth a visit.
On our last day we decided to walk southwards the city and had an amazing view of the sea and walked through an interesting little forest.
NOMH
On our last morning we sat in a cute little café called "NOMH" and had delicious coffee, a chocolate banana porridge and hummus bread. It was very good! NOMH is also a store were you can buy sustainable food and drinks.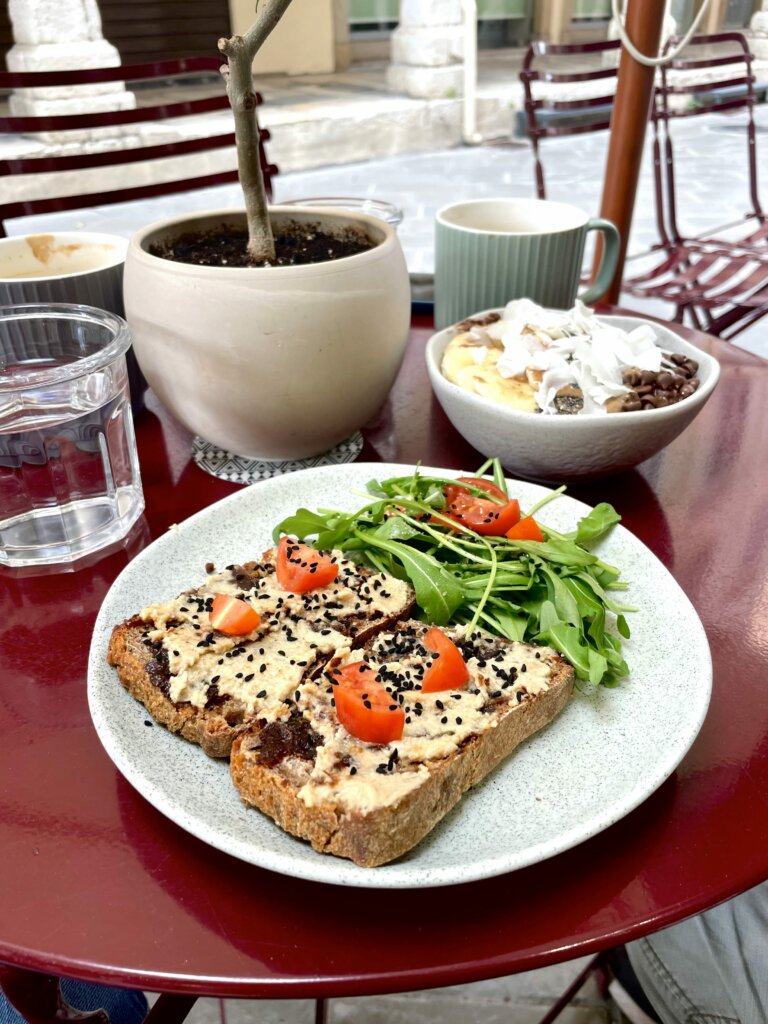 Tabule Rasa
For our lunch at the airport we had some falafel wraps from Tabule Rasa. I built one myself with vegan mayo, baba ganoush, tomato and cucumber. This restaurant is also a big recommendation as everything was fresh, delicious and we only payed 4€ for each wrap.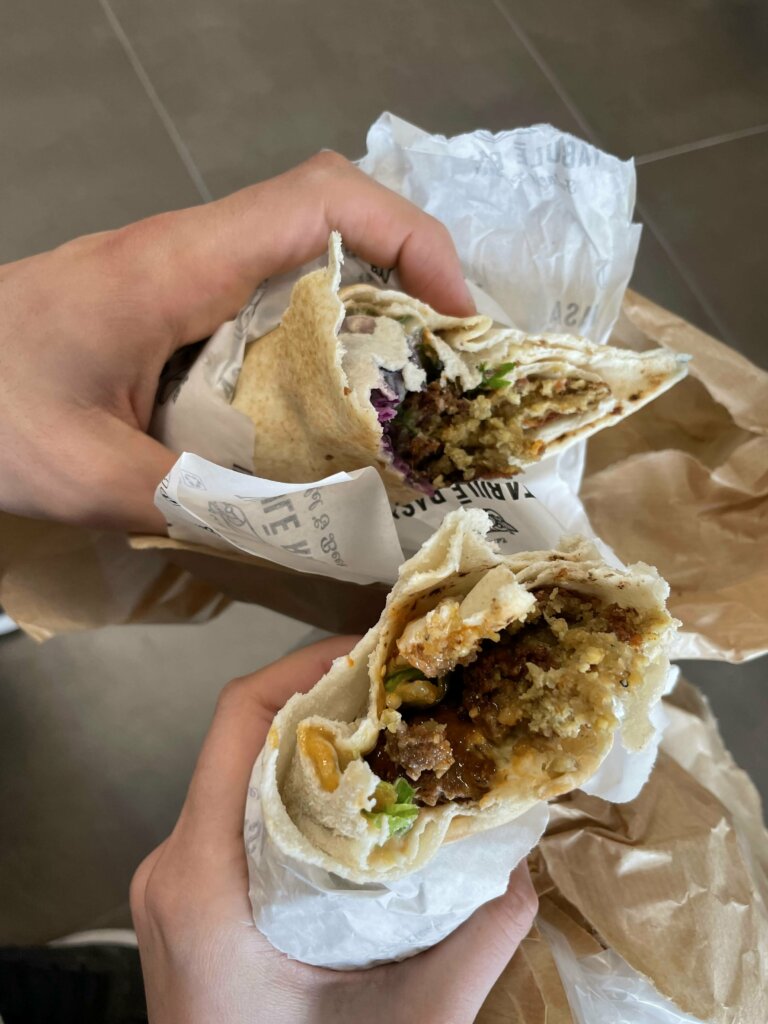 Conclusion – visit Corfu
If you visit Corfu in winter time you have to know that it's not the typical tourist season. That means that a lot of attractions are not possible, you won't be able to go swimming at Corfu's amazing beaches and places might be closed. At the same time everything is cheaper, places are not crowded and you see the "real" city. If you want to explore the city of Corfu, three nights are a perfect time. If you have a car and also want to see other places of the island it is better to stay about a week.
In summer I would recommend you staying longer as the island is big and there are a lot of places to see.
Is Corfu a good place for vegans? Definetly YES. The city has a lot of options (as always I recommend using the app "Happy Cow" for finding restaurants) and even the supermarkets have plantbased milk and other food.
Thank you for joining my small trip to Corfu and I'd be happy to read from you in the comments. Have you ever been to Corfu?
All the best
Miri
Also read my article about Amsterdam.
Here are some more pictures of the city.