Andalusia… Last year I spent two weeks in Málaga and since the first day I knew that I will come back. Before my exams I booked a flight to Málaga because I wanted to visit a friend for 6 days.  Only one day before my flight back home I decided to stay longer, canceled my flight and booked a bus ticket to Cádiz.
Right now I'm sitting in a small restaurant in Madrid. The last three weeks I experienced a lot of things I really like to share with you.
In this article you will find facts and information I wish I knew before my first trip to Spain.
As you might know – Spain is a quite big country in the south of Europe – having it's boarders to Portugal, France and Andorra. Only a few Spanish people speak English so before traveling to Spain you should  learn some of the basic Spanish words. At least "hablas ingles?", what means "do you speak English?" to have a polite start of your conversation. Don't be upset if people treat you a bit unfriendly and don't try to be as helpful as you might expect. I talked to a lot of people in busses, train stations and so on and if I didn't undestand them they didn't even try to make me understand what they mean.
FOOD and DRINKS
The salery in Spain is not that high what leads to the low prices of food and other things in the supermarkets. For the best and cheapest fruits&co, go to the small markets.
What is quite sad – there are almost no organic options in normal supermarkets. In general, environmental friendly alternatives are not that common, so bring your own bag and a refillable water bottle. There are a lot of tab water stations in almost every city to make it easy to stay hydrated during the hot summers. You have to get used to the taste but it is a cheaper and healthier option to buying plastic bottles. And if you are from Germany as well, you might miss good bread. There might be some bakeries but at the supermarket? No chance!
Different to what the most people might think, eating vegan in Spain is super easy. Sometimes even easier than in Germany, There are vegan restaurants in small villages, vegan burger in omnivore restaurants on the beach and "mercadona" and "super mercado" have a lot of vegan food to buy. My little helper is the app "happy cow". With this app you can find vegan restaurants, stores and much more all around the world,
If you're hungry in the afternoon, you should plan to cook for yourself or wait until around 7/8 pm. The most restaurants  close their kitchen earlier – even if it isn't written on the internet. If you want to be sure, call them!
You want to cook for your own in your holiday flat? Have some matches with you, as a lot of kitchens have a gas stove.
Enjoy the cheap mango, avocado and watermelon!!
Extra tipp: Don't forget a lunch box! It's a lot cheaper to pepare food at home and take it with you when you want to explore the area.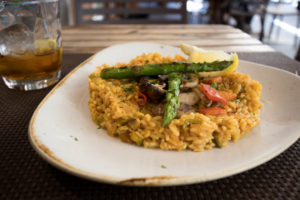 SUN, CITY and BEACH LIFE
Of course it depends on where in Spain you're staying but most of the cities are quite hot in summer. Don't pack a lot of T-Shirts and long trousers. Tops and shorts are all you need. To be prepared, find a good sun screen to not end up sunburnt. It gets faster than you think, even if you're only walking through the city.
Public transport is very cheap (compared to Germany) but as in every city you want to visit: use the opportunity to walk a lot. You will see the most hidden places and catch an atmosphere you wouldn't find while sitting in the bus.
When you go to the beach, be sure to check if there ist any jelly fish in the water.
If you want to use public transport, I ecommend you to buy 10-rides ticket. In Bacelona you pay half of the normal price for every ride (1€ instead of 2.20€). In Málaga 0.98€ instead of 1.10€, so you can really save a lot of money.
THE NIGHTS
If you'e waking up easily through noise, be prepared for some loud nights. In the cities they use to clean the streets or empty the garbage at night. If you're staying for some days at the same place, it could be helpful to have fly screens with you to prevent mosquitos and other insects coming to your bed.
Also: Do not miss the Spanish night life! Enjoy some cocktails and dance on the streets. The atmosphere is amazing!
OTHER
Download an offline map, have a charger with you and as always – don't bring too much stuff with you. You won't need most of it and in case there is always the opportunity to buy something. As Spain is a coutry in the EU you don't need to change money. You also don't need any adapter for the plugs, everything is quite easy.
According to safety: Spain is very safe. I even feel afer than in Germany – but of course, be aware of your money, phone and other stuff that could get stolen.
AND get a credit card! If you don't have one. 😉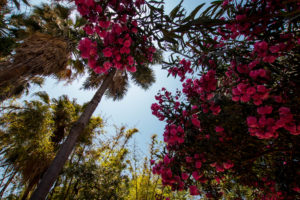 Spain is definetly my favorite country so far, mostly because of the atmosphere. Poeple are open-minded, happy and won't have a grumpy face if you ask them something (as you might know from Germany…).
And now – have an amazing trip!
If you have any questions, feel free to contact me! 🙂
Hasta luego,
Miri