Málaga! It's more than two months now that I left this beautiful place but I still think about that wonderful time every day. A lot of people asked me if I could write an article in English… So here we go, one in English! 🙂
First of all, if you have no idea where Málaga is, it's a city with a population of about 600,000 people at the Spanish south coast. Málaga is not too big and not too small either. You have a lot of opportunities to go shopping and the night life is great! You just have to know that at about one o'clock the whole city is almost under water. Big cars are cleaning the streets and in general it's very loud at night. Every big and loud car has to make loud noises but believe me you'll get used to it.
It was my first time in Spain so I can't compare the places I've been to with other cities. All I can say is that I fell in love with the open and familiar atmosphere immediately and that I haven't seen such a "perfect" place before. In Málaga you have the beach, great weather all around the year, lovely people, great food and nice culture combined. The only thing I missed were the forests and fresh green trees. Yes, there are parks with palm trees and other beautiful plants but you can't compare it. And that's definetly no reason to not fly to Málaga! 😉
Some things that might be interesting for you:
A lot of people don't speak English. It's definetly better than in Lisboa, the most people in restaurants for example speak English but there are a lot who don't. Even at the train station counters so be prepared to use your Spanisch. 😉 Always have a dictionary or your phone reachable. If you don't have internet abroad, remember to download the google translation packages and google maps offline!
Spanish people are very nice and friendly until it comes to getting into the bus (!!!). My friends and I weren't able to get the concept behind but if you're waiting for a bus and suddenly they are standing in a queue, don't try to get into the bus without being in the queue. Even if you were the first person and now you're the last one now!
The bus system is great! Even at night there are night busses. BUT plan that you have to wait a little longer or that the bus. There are no real schedules
Don't forget your jacket! In summer you just don't need it, even at night but the busses are very, very cold and you can catch a cold very easily. Be prepared! 😉
Don't go to the beach and plan that you'll go swimming. There can be a lot of jellyfish so be prepared to just lay in the sun. 🙂
There are a lot of waterfountains. Just take your refillable bottle with you and stay hydrated. Very important if the sun is hot!
At the train station in Málaga are security controls in front of the rails so be prepared to have enough time! In Germany I love taking the train but in Spain I don't. They have a great bus system and it's also a lot more cheap. Some busses even have wifi! 😀
Use google maps with GPS on your first bus rides! A lot of stations have the same name and most of the busses don't have a display.
Get a bus card! You can get them in the tobacco shops and you'll pay less than 1 € per bus ride.
Be open minded! If you're in the city center at night a lot of people will ask you if you want to go to their bar. They even offer you big discounts so why not? 😀
In the following I'll write down some places you shouldn't miss while staying in Málaga or Andalusia in general. If you want to read where you can find the best food, click here.
1. Gibralfaro / Mirador de Gibralfaro
Put on some good shoes and walk up the hill to get the best view over Málaga! Especially when it's dark it can be very fascinating to see all the lights, the harbour and the whole city. It's not that high, don't worry!
2. Catamaran boat tour
I love catamaran tours but I was a bit disappointed of this one. You drive 20 minutes out of the harbour, 20 minutes along the coast and 20 minutes back though the harbour.
So you don't see anything beautiful but I can only compare it to Madeira and to be honest no landscape can be compared to Madeira! Nevertheless it's nice to feel the waves underneath your body. Take a look at the water, you'll see a loooot of jellyfish!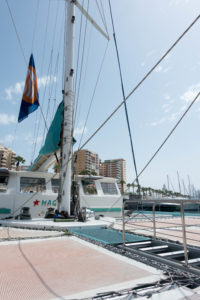 3. Calle Marques de Larios
Leave the bus at the station "Alameda Principal" and walk to the street "Calle Marques de Larios". It's a nice street with sail cloths at the top. You find a lot of ice cream shops and if you follow the street you will be lead to nice places such as "Fuente de Génova" and if you turn right you will find a house with coloured windows. Very nice!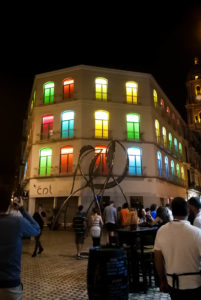 4. Paseo del Parque (Plaza Marina)
If you leave the bus at this station you can easily walk to Gibralfaro or just walk into the city and see beautiful streets and a lot of historical buildings.
5. Markets
Málaga has a lot of markets just use google to find one next to your place! If you go to the places no tourists go to, you can find very cheap fruits. I payed for 3 mangos and 2 avocados for three euros. In Germany I would pay 10!!
6. Parque del Oeste & beach
The most famous beach in Málaga is called Malagueta. When I was there it was full of people and even worse – jelly fish. It was not possible to swim, nor to walk a few steps into the water. I can really recommend you to drive with the bus number 3 (Puerta Blanca) to "La Luz – La Paz" and go through the park "Parque del Oeste". You will find beautiful flowers and a lot of birds and animals. Even kangaroos! There are beautiful benches and nice ways and there is even sports equipment if you want to do your workout outside! When you walk straight through the park you arrive at the beach. There aren't that many people and it's a very nice place!
7. Malagueta
As I said – I do not recommend this place. But maybe you're more lucky than me! 😉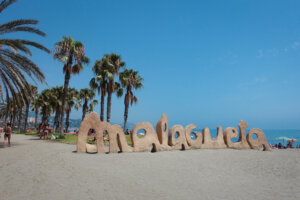 8. The port
Next to Malagueta is the port. Nice to walk there and the small market is a must visit in my opinion.
Cities for day trips
1. Sevilla
A wonderful city about two hours away from Málaga. We took the train but it's also possible to take the bus.
The city is very beautiful with cute and small streets and old buildings. If you want a great view over city, I'd recommend you to go on top of the building of "El Corte Inglés". You can eat ice cream or other food with an amazing view!
We left the bus next to "Basílica de la Macarena", a church that's yellow coloured.
We walked southwards to "Metropol Parasol", a place with an amazing wood art work.
The most famous place in Sevilla is "Plaza de España". Sadly I wasn't there because it was so hot this day and we were too exhausted and we did not have a lot of time in Sevilla. 🙁
2. Nerja
Nerja is a small town not far away from Málaga. We took the bus for 5 euros and it took about one hour to get there. Nerja has cute places and an amazing beach. The "Balcón de Europa" is a very famous balcony with a view above the ocean. When you walk along the beach you also find a colourful staircase. So beautiful!
Places I didn't visit but heard a lot of good things about:
So sadly no pictures. Just google it!
1. Málaga – Jardín Botánico-Histórico La Concepción
A botanical garden not far from the city center of Málaga.
Edit 2021: I've been there and it's a beautiful place!
2. Ronda
A small city with a big canyon next to it. Must be amazing to take a walk there!
Edit 2021: I've been there and it's a beautiful place!
3. Granada / Alhambra
One of the most famous places of Andalusia. A very huge old castle called Alhambra. You should reserve tickets, otherwise you might have to wait very long to get in!
4. Marbella
First I even wanted to take the bus to Marbella on a free day but the bus rides were cancelled. Now I am very happy about that because a lot of people told me Marbella is overrated and so I drove to the beautiful city Sevilla. If you have a lot of time in Andalusia just give it a try!
5. Caminito del Rey
If you want to do some action activity you should visit Caminito del Rey! It is a long trail above canyons.
Edit 2021: I've been there and it's a beautiful place!